Cuttlefish with spinach in Paros!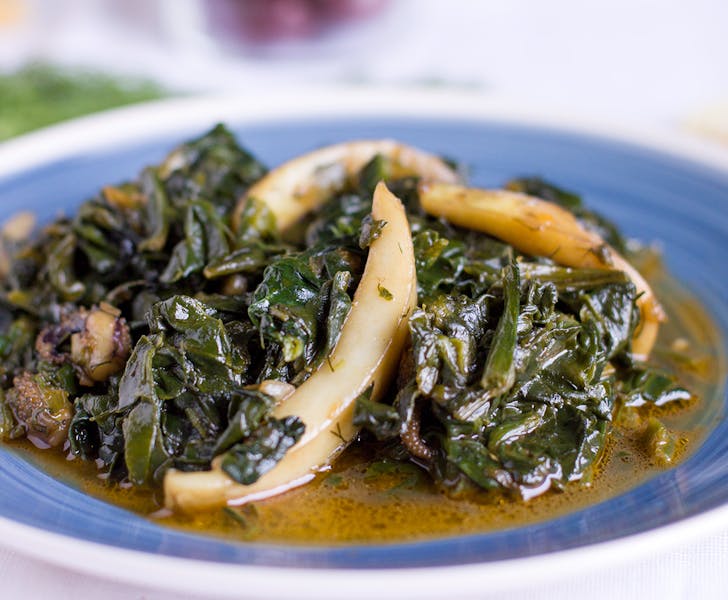 This display of fish is called gounes in Greek, a word very common with the great fishing tradition of Paros.  Fatty fish, such as mackerel, is carved open like an open book absorbing the warm summer sun and salty sea breezes. Mackerel is scaled, gutted and salted and once dried it goes briefly on a hot charcoal grill before it finds it way on your table making an exquisite summer mezze.
As you keep wondering the narrow streets, you will walk past the traditional bakeries of Paros making sweet rusks flavoured with aniseed and fragrant mastic essence or the chubby loaves of bread sprinkled with sesame. If you visit in early spring, the luscious green of Paros will enchant you with the many colours of the wild flowers that carpet the hills. There is also a wide variety of wild herbs growing in abundance: the well-known Greek oregano, thyme, wild savory and sage. Many greens that also grow in the wild are regularly used in local dishes, with fennel being a particularly loved one.
And what would be even better than matching fish and seafood with fresh wild greens? Take cuttlefish for example. Cuttlefish with fresh greens, like Swiss chards or spinach is a match made in heaven, especially when accompanied by fragrant herbs such as dill and fennel. All these combinations will make a dish to remember. Cuttlefish with spinach is a dish you can enjoy either as a main or a starter.
Cuttlefish with spinach Greek recipe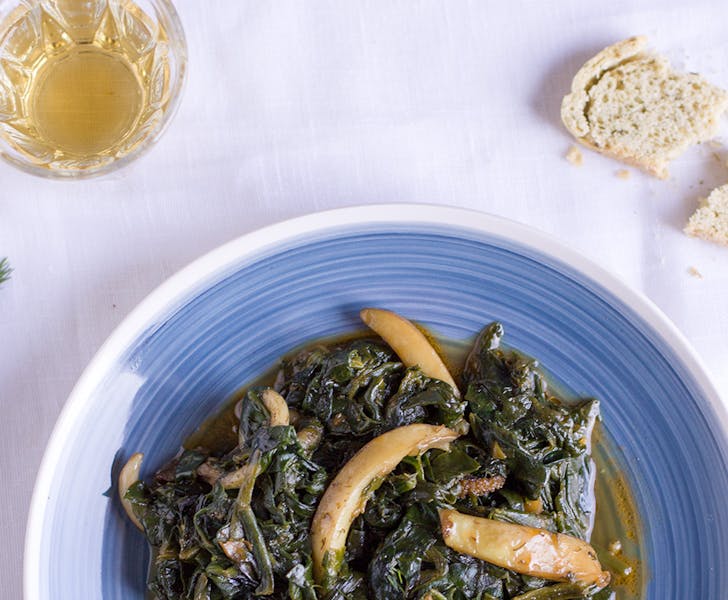 Rinse the cuttlefish, separate the tentacles from the main body, remove the ink sack, cut in strips and rinse thoroughly. Let the cuttlefish drain and pat dry with a kitchen towel.
In a deep pot, heat up half the olive oil and sizzle the cuttlefish for 2 minutes. Add the chopped onion and let it sizzle for 5'. Then add the tomato paste and simmer for a couple more minutes.
Deglaze with wine.
Add the rest of the olive oil along with the chopped spinach, fennel and dill and let the spinach wilt.
Add salt and pepper and keep stirring gently for a few more minutes until most of the juices have evaporated
Once well mixed, cover with lid and allow to cook for approx. 30 minutes in low to medium heat.