Dolmades are traditional grape leaves stuffed with rice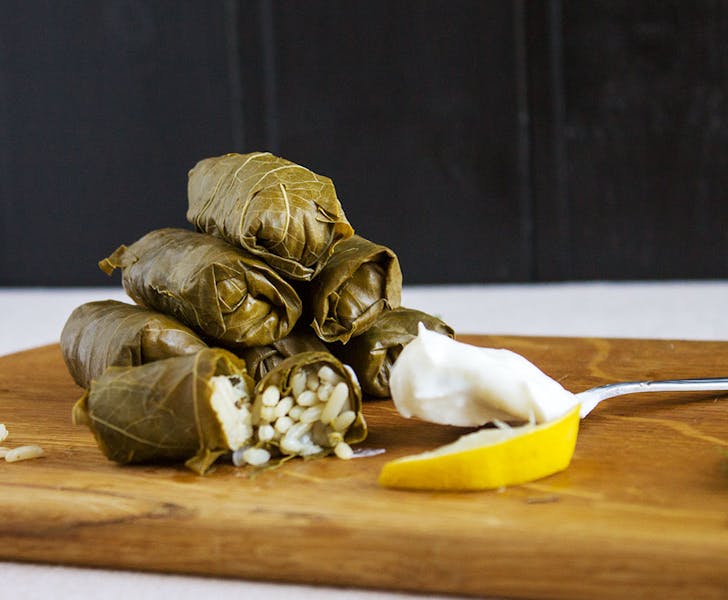 Dolmades are a recipe valid all year round, although the ingredients used, although specific, do not have a precise seasonality. Rice and vine leaves are in fact always available, just identify the right quality for this recipe.
What can vary throughout the year is the type of dolmades consumed. For example, during the period of Lent in which no meat is consumed, vegetarian dolmades are usually offered, which in Greek are also called gialantzi.
It is a lighter version but no less tasty, usually the lemon stands out as the prevailing taste in this type of recipe. During the rest of the year, meat is usually added to make them even better.
Each region also has its own type of dolmades, so it is not difficult to taste different varieties if you travel a bit around the country.
The origins of this recipe can be traced back to the Middle East. The Turkish translation of the word Dolmak for example means "to fill". More generally, all the middle eastern countries have their own version and presence of this tasty recipe in their traditional cuisine.
Dolmadakia, traditionally is one of the spring dishes. Imagine yourself picking through a handful of green, tender new leaves off the vines, get a handful of herbs from the herb garden and complement these with a little bit of rice. If you fancy you could add a bit of mince meat as well, but the truth is dolmadakia taste far better in their vegetarian version.
Dolmadakia is a very old dish, many say it goes as far back as Alexander The Great. In the many years the dish has been enjoyed, dolmadakia tend to be more a cooking technique than just a tasty appetizer. Whilst in spring you wrap the vine leaves, in winter these are replaced by cabbage leaves. This is where the stuffing often changes from vegetarian to a hearty meat one, with just a little bit of mince meat.
But let's go make them. Once you start on it, dolmadakia will become such a staple, you will never stop. Added bonus you can enjoy them either at room temperature or cold with a little bit of Greek yogurt to the side.