The Dakos salad, a Cretan delight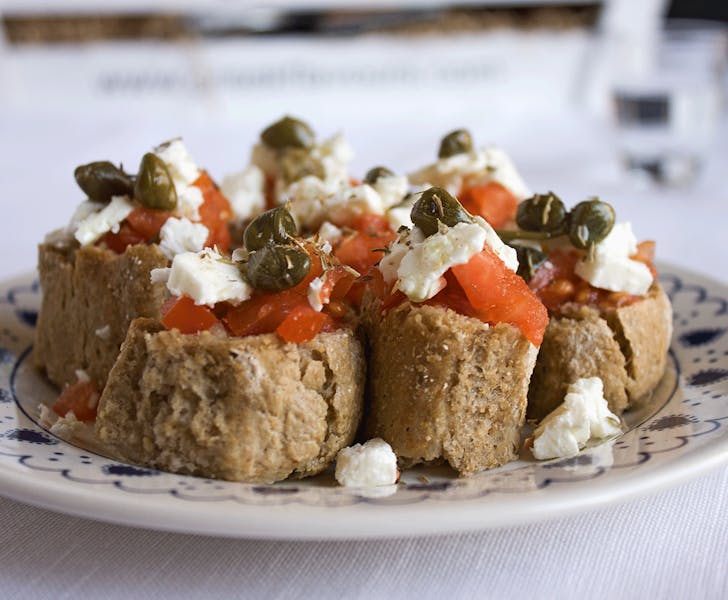 The culinary delights of Crete are as wide as the island itself. It would be impossible to make a comprehensive list of the best Cretan dishes, especially if you take into account the many regional variations. I am going to share the highlights with you, ingredients and dishes that make Cretan cuisine so unique.
One thing to look out for is the pies: either pies baked in large round trays, like wild seasonal greens pie, called 'hortopita', 'marathopita', small fennel pies that resemble a pancake or the bite-sized 'kaltsounia', small cheese pies made with local fresh cheeses like anthotiro and mizithra. Of course, extra virgin olive oil and olives are of the best quality. There is another Cretan product, high in their dairy list, worth trying at least once: stakovoutiro.
Stakovoutiro is a dairy preparation, very similar to butter, made of the higher butterfat of goat's milk. Being so rich in flavour, only a little bit is used as a flavouring. Stakovoutiro is the secret ingredient for 'gamopilafo', traditional pilaf served in many celebrations and also in skioufichta; the most well know homemade Cretan pasta. Skioufichta, like the pilaf, are traditionally cooked in lamb's broth or fried with stakovoutiro and served quite simply with a generous helping of local grated cheese.
Apaki, a cold cured pork cut is one of the most delectable mezze to accompany the raki, the quintessential Cretan spirit. If you have an adventurous palette you should definitely try snails in Crete.
There are two very common ways to cook them, fried 'chochlioi bourbouristoi' or 'chochlioi stifado', snails cooked in a spiced red sauce. When it comes to meat dishes, lamb is again a specialty, as in many places in Greece. You can enjoy lamb as a casserole with artichokes or the bittersweet greens, stamnagathi.
Stamnagathi, commonly known as spiny chicory is one of the most loved wild greens of Crete. It will make its way into stews and pies but it can be enjoyed on its own, as a salad with a light olive oil and lemon dressing. Talking of salads, the most well known in Crete is 'ntakos'.
Dakos salad is indeed a very simple preparation, with barley rusks as a base, a handsome drizzle of olive oil, ripe tomatoes and fresh mizithra or feta cheese on top. It is ideal for snacking with your raki and very easy to prepare at home.
Cretan dakos for two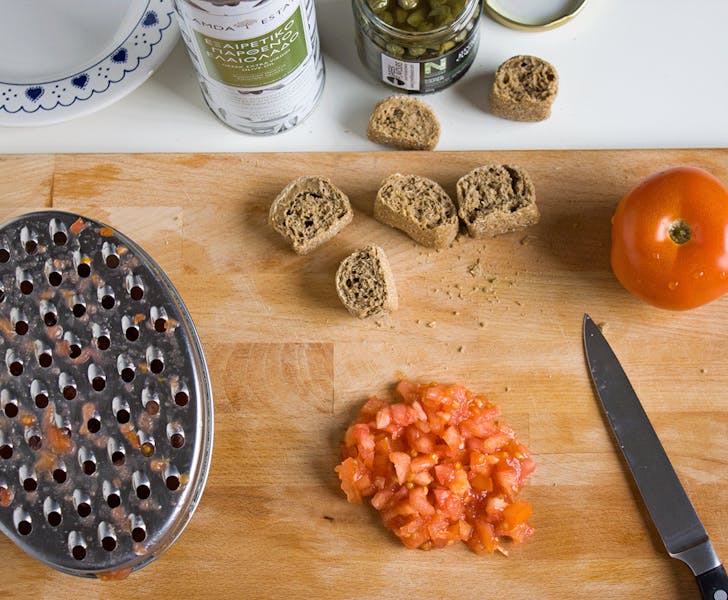 1. Peel two of the tomatoes, cut in dice, grate the other two tomatoes and set aside.
2. Quickly pass the barley rusks under running water and let them rehydrate for a minute.
3. Oil the rehydrated barley rusks, if you wish, you can either roughly break them or keep intact.
4. Season the tomatoes with salt and pepper to your taste and spread the grated tomatoes over the oiled rusks. On top add the chopped tomatoes.  
5. Roughly chop the mizithra cheese or feta and add the crumbled cheese on top of the barley rusks.
6. Add a final touch of oregano and drizzle 2 tablespoons of olive oil and your ntakos is ready. For those who like it you can add red wine vinegar.