Souvlaki, the ultimate Greek fast food!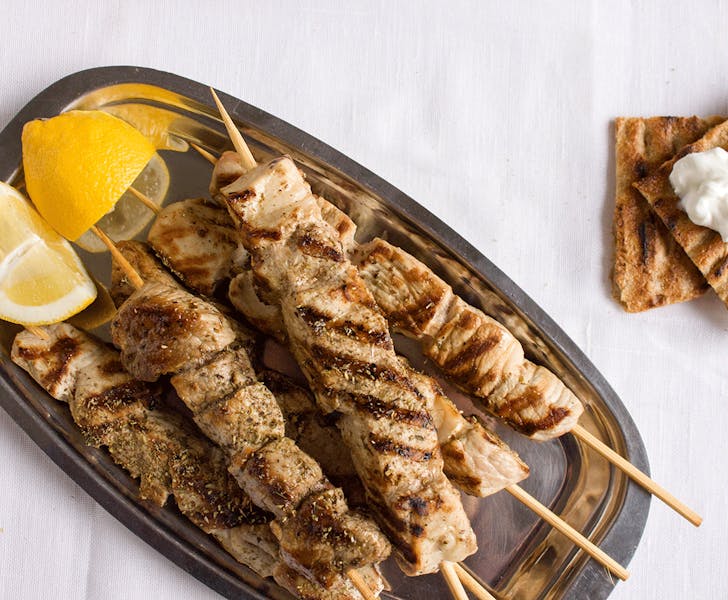 Whilst pizza is ideal for accompanying movies on a lazy evening in, you can grab a souvlaki anywhere and take it wherever you go. Souvlaki is the Greek official national icon. You can eat it for lunch, dinner or breakfast after a late night out.
You can find this quick and easy snack on the beach or in any mountain village. You can taste it during an evening walk and the children are literally crazy about it. It is a staple food for students and a sure protagonist of most Sunday barbecues.
If there ever was a king of Greek fast food, this is souvlaki! It's juicy, delicious, super easy to make, and always available when you don't know what to cook.
Souvlaki is as versatile as your taste. Your souvlaki wrap can be filled with a juicy, spiced kebab with lamb or beef. It can be filled with gyros, the iconic slowly roasted meat on the spit that comes with a choice of pork or chicken filling.
Chicken souvlaki or chicken skewers is a very popular option, often accompanied sauces other than tzatziki such as mustard or mayo based sauces. More modern additions to souvlaki, be it pork, lamb or chicken souvlaki include French fries, neatly packed in the wrap as well as a variety of salads.
The simplest souvlaki for BBQ is pork skewers, a true crowd-pleaser. Traditionally, the skewer was very simple, small bite-sized pieces of pork would be pierced on a skewer and cooked until tender over naked fire. Then you would have a drizzle of lemon and a sprinkle of Greek dried oregano.
For a wrap, the preparation is again very simple. The classic filling for the soft Greek pita is tomato slices, slivers of onion and an ample dose of tzatziki. Of course in a pita wrap, as with any sandwich, imagination is your only limit. You can add any salad and spread you like and have a very filling meal.
When are the Greeks eating souvlaki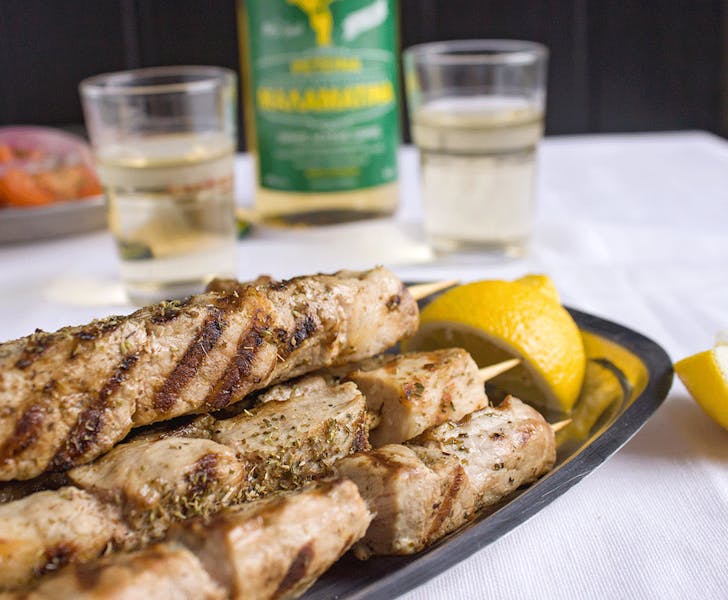 The simplest answer to this question is: always! And indeed for some this dish has practically become a religion. In Athens as well as in any village in Greece there is at least one delivery of souvlaki. The famous souvlatzidiko.
It is therefore a very simple solution for the evening: I pick up the phone and order a souvlaki for dinner. Convenient, fast and above all delicious.
In fact, chicken or pork skewers are the perfect companion food. Parties with dozens of people are usually resolved with a massive order of souvlakia, or for the more organized and willing to have a barbecue.
Cooking souvlaki is very simple, you just need to have a grill available and that's it. The secret is to follow the preparation steps correctly, from marinating the meat onwards.
Pork souvlaki recipe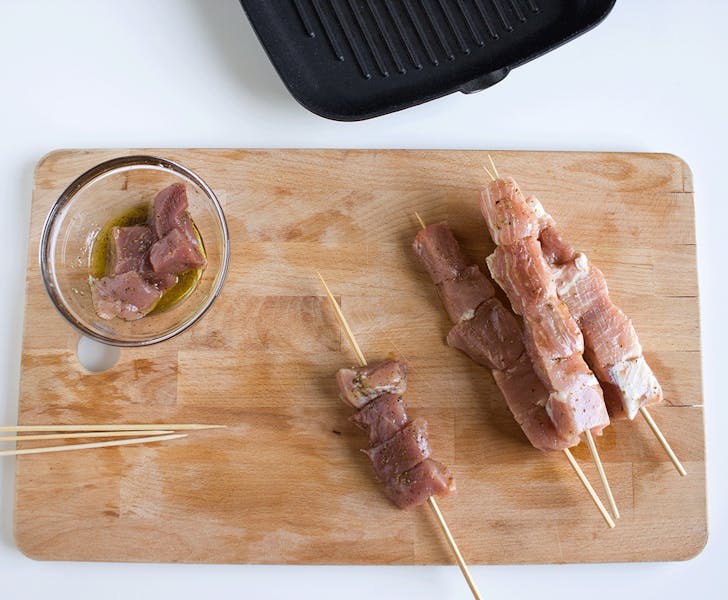 1. Cut the pork in chunks of approximately 2 cm and prepare the marinade. Place in a bowl and add the marinade ingredients: olive oil, lemon juice, mustard and oregano. Mix well, cover and let it rest in the fridge for at least 30 minutes.
2. Take your skewers and cut them to the size of your griddle pan. Push gently the pork through the skewers and switch on the heat.
3. Heat up your griddle pan on high heat and cook on hot grill the skewers for about 8 minutes turning occasionally until golden and cooked through.
4. Meanwhile, heat up a sheet pan to cook the pita breads. Brush them with olive oil and season with salt, pepper and oregano. Pita breads need 1-2 minutes each side.
Hints for chicken souvlaki: The very same procedure can be followed. First you have to marinate the chicken and then cook the chicken for a bit longer than the pork.
Enjoy your souvlaki with a good old retsina!