How to cook the perfect moussaka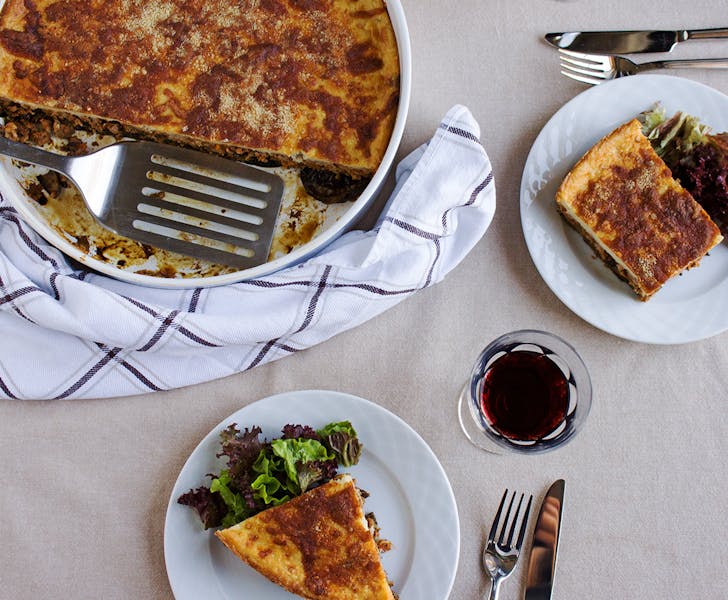 There are many variations of moussaka. Some moussaka recipes use courgettes and aubergines, others use potatoes for the base layer or a combination of all the above. These days there are even popular vegetarian variations of moussaka.
As a principle, moussaka incorporates many of the fresh summer vegetables that are bursting with flavour at this time of the year. They are topped by slow cooked minced meat in a rich tomato sauce and it is finished with béchamel sauce and hard cheese sprinkled all over the top to form a crust that it is truly to die for with every bite.
I've always wondered how originally Greek béchamel white sauce is. It sounds very French and truly, it is. We owe the addition of béchamel to Nikos Tselementes, a Greek chef originally from the island of Sifnos, who had great affection for French cuisine.
Tselementes trained as a chef in Europe and worked in some of the world's most prestigious hotels during the 1920's and 30's. He was a prolific writer as well as recipe creator and to this day, to us Greeks his last name as a synonym to "cookbook".
His influence to the Greek cuisine westernised many traditional dishes. For example, he swapped olive oil for butter as he preferred richer flavours to ordinary cooking. He added dairy creams and sauces to staple dishes and bound them together.
This was a time when Greek middle classes were trying to distance themselves from pauper's foods. And this is how our treasured moussaka was born. There is much debate in the Greek culinary world on whether his influence was positive one or not.
How many original elements were "lost" under luxurious sauces and melted cheese, we cannot really know. Moussaka, nevertheless, became an instant winner and we bet no one can doubt that.
Have you ever tried making moussaka at home? Greek authentic moussaka is a labour of love and patience! There are four different cooking stages and all it takes is a little bit of efficiency and preparation and you'll get done in just over 2 hours.
You start with the mince and once it's slowly cooking away, you move on to the veggies; once these are done you finish with the béchamel. And for the final stage: baking! Let's look at the moussaka recipe step by step.