How to cook perfect moussaka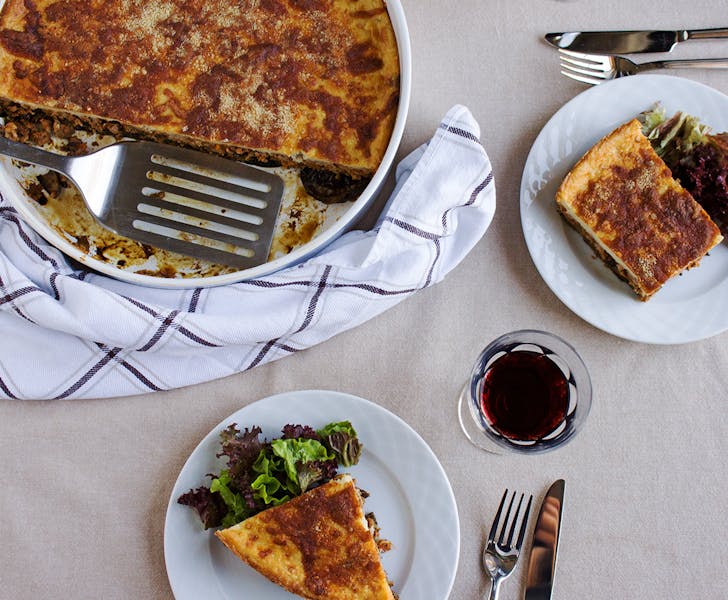 There are many variations of moussaka. Some moussaka recipes use courgettes and aubergines, others use potatoes for the base layer or a combination of all the above. These days there are even popular vegetarian variations of moussaka.
As a principle, moussaka incorporates many of the fresh summer vegetables that are bursting with flavour at this time of the year. They are topped by slow cooked minced meat in a rich tomato sauce and it is finished with béchamel sauce and hard cheese sprinkled all over the top to form a crust that it is truly to die for with every bite.
I've always wondered how originally Greek béchamel white sauce is. It sounds very French and truly, it is. We owe the addition of béchamel to Nikos Tselementes, a Greek chef originally from the island of Sifnos, who had great affection for French cuisine.
Tselementes trained as a chef in Europe and worked in some of the world's most prestigious hotels during the 1920's and 30's. He was a prolific writer as well as recipe creator and to this day, to us Greeks his last name as a synonym to "cookbook".
His influence to the Greek cuisine westernised many traditional dishes. For example, he swapped olive oil for butter as he preferred richer flavours to ordinary cooking. He added dairy creams and sauces to staple dishes and bound them together.
This was a time when Greek middle classes were trying to distance themselves from pauper's foods. And this is how our treasured moussaka was born. There is much debate in the Greek culinary world on whether his influence was positive one or not.
How many original elements were "lost" under luxurious sauces and melted cheese, we cannot really know. Moussaka, nevertheless, became an instant winner and I bet no one can doubt that.
Have you ever tried making moussaka at home? Greek authentic moussaka is a labour of love and patience! There are four different cooking stages and all it takes is a little bit of efficiency and preparation and you'll get done in just over 2 hours.
You start with the mince and once it's slowly cooking away, you move on to the veggies; once these are done you finish with the béchamel. And for the final stage: baking! Let's look at the moussaka recipe step by step.recipe step by step:
Moussaka recipe: how to prepare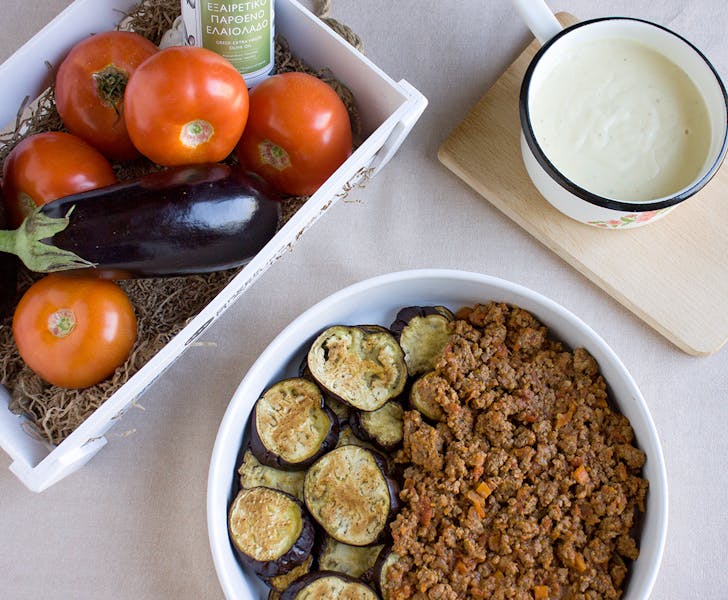 Meat sauce:
1. Heat the oil in a deep pan and start browning the ground beef for 5'.
2. Add the finely chopped onion and minced garlic and cook for another 5'-6'.
3. As soon as the onions are soft, pour the wine and let it simmer for a few minutes until the alcohol evaporates. 
Add the tomatoes, tomato paste, sugar, bay leaves. Give it a good stir and let the sauce simmer for 30 minutes, until almost all liquids have evaporated and the sauce has thickened.
Vegetables:
1. While the sauce is cooking away, slice the courgettes, potatoes, aubergines in 1 cm thick slices.
2. Heat vegetable oil in a pan and shallow fry the vegetables for a few minutes. You can do this in batches. The vegetables don't need to be fully cooked. They will finish cooking in the oven.
3. Once half-fried, remove and rest the sliced vegetables on kitchen paper to absorb any excess oil. (Note: for a healthier option you can lay the vegetables in a single layer in lightly oiled baking trays, season with salt and pepper, brush with a little extra oil and bake in a pre-heated oven at 180°C for 15-20' until half-done. You may have to do this in two or three batches, depending on the size of your oven and trays).
Bechamel sauce:
You will need a balloon whisk! Alternatively, use a wooden spoon.
1. Warm the milk in a separate milk pot or in the microwave and set aside.
2. Place the butter in a heavy saucepan over low-medium heat and melt it completely, but do not let the milk solids turn brown.
3. Add the flour and stir it quickly into the butter. At this stage the mix may crumble and it may start catching a little.
4. Continue stirring the flour-butter mix for 5' until it turns slightly golden in colour. Do not let it turn dark!
5. Pour in just a cup of the warm milk, just enough to loosen the mix and stir thoroughly.
6. Start adding the rest of the milk, a cupful at a time, whisking constantly. Whisk vigorously to make sure the ingredients are incorporated fully and you cannot see any lumps.
7. Keep whisking and cook for 10' or more until you have a thick, velvety creamy sauce. The more you cook the thicker it gets.
8. Remove from the heat and season with salt, pepper and freshly ground nutmeg to your taste. You can also add a small handful of grated cheese and whisk until it is fully melted into the béchamel.
Assembly:
1. Whilst making the béchamel, preheat the oven to180°C
2. Lightly oil a large, deep ovenproof dish (big enough for a family!) and start layering the half-cooked vegetables: first the sliced potatoes and the after the first layer of potatoes add the layer of eggplants and finely the courgettes.
3. Next, pour over the beef mince sauce distributing evenly with a spoon or spatula. Finally, pour over the béchamel, spread it evenly with a spatula and finish it off with plenty of grated cheese.
4. Bake in the oven for at least 45 minutes or until the top is golden brown.
5. Rest the moussaka for 10' before you cut and serve.