Greek yogurt with honey and walnuts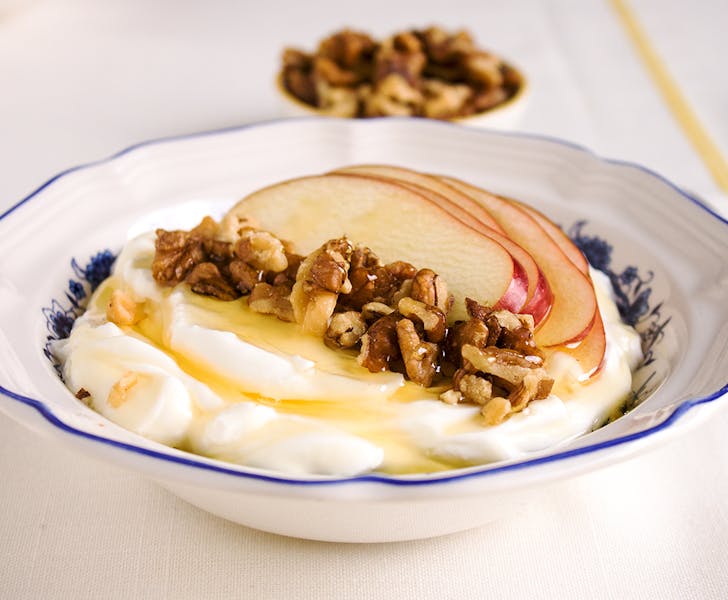 First of all we start from an assumption that may seem a contradiction and in some respects even funny, but it is the pure and simple truth. The Greeks traditionally do not have breakfast, and we are talking about the majority of Greeks!
Despite this, we tend to identify with the term Greek breakfast a rich morning meal based on natural and healthy ingredients. In fact, these are ingredients widely used in the Greek Mediterranean diet and perhaps for this reason the name of Greek breakfast.
We are talking about ingredients and products of the land of which the country is rich. Fresh fruit, dried fruit, honey. They are all raw materials widely available in the country at all latitudes. But above all, Greek yogurt, a true icon of production quality and wealth.
What's in a Greek breakfast? A good breakfast bowl with yogurt, a handful of nuts be it pistachios, walnuts or almonds and a few of pieces of fruit. Seasonal fruit make the best choice: apples and pears in winter, bananas are easy to get throughout the year, cherries and strawberries in late spring, peaches and apricots during the summer months.
The nuts will add an extra crunch and if you want a sweetener, go for natural honey. Greek honey has amazing varieties, with thyme honey being the most well known. But if you want to give your breakfast bowl a spin, why not try specialty honeys like fir or chestnut honey?
Greek yogurt will certainly keep you filled. You can get an extra energy from the nuts of choice, as they are rich in protein and fibber. Walnuts apart from their high content of protein, calcium and fibber are also rich in omega 3.
Pistachios in their own merit, are a great source of calcium and a complex of vitamins such as vitamin E, B vitamins and vitamin K, which makes not only for a healthy, wholesome breakfast but an extra crunch to give your Greek breakfast bowl texture and this extra bit of taste you can find in simple things. And don't forget your coffee, an extra pleasure to wake you up and start your day full of energy.
You can also consider alternate it with a continental breakfast in the Greek way. Eggs with tomatoes, scrambled eggs, feta cheese (with a drizzle of olive oil) and spinach pies. These are just suggestion, but we leave the creativity to you!