Flavours of Santorini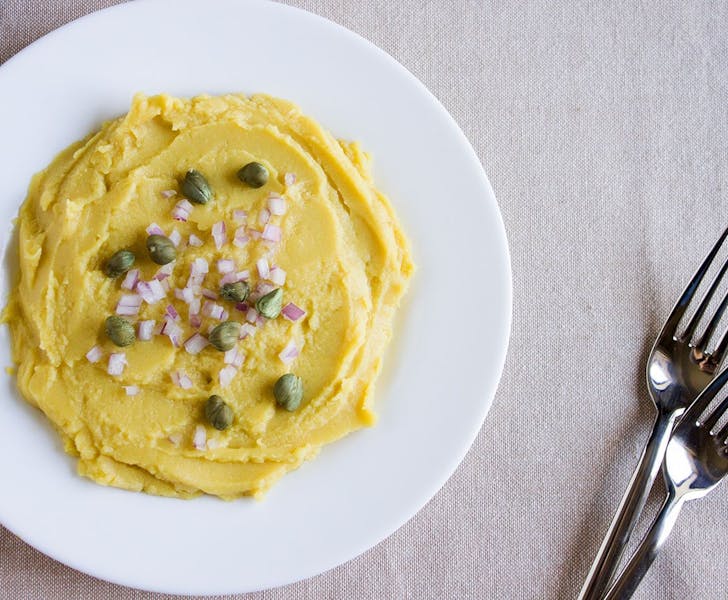 It is well known that Santorini is not the ideal island if you want to spend the classic holiday with a beautiful sea and breathtaking backdrops. Santorini is the island of beauty. The unforgettable sunsets from the village of Oia, the incredible view of the caldera, the terraces that make up the villages that overlook the caldera.
Everything suggests that once in a lifetime it is a must visit. In addition to these postcard landscapes, Santorini is able to impress its guests with a high level cuisine.
Of all the Greek recipes, the Santorini fava is certainly one of the most colorful. In fact, thanks to the characteristic yellow color of the dried beans, the final result is a dense cream with an intense yellow color. In the kitchen, even the eye wants its part and with this dish success is assured.
Moreover, it is an extremely simple dish to prepare. In this case it is really true: the ingredients make the difference. The bean that grows in Santorini is in fact unique, absolutely different from the other varieties that grow in Greece.
You'd be right to ask what could possibly grow on a bare volcanic rock. The volcanic soil is, as a matter of fact, excellent for water retention in a place where rain is scarce. All around the island of Santorini you will witness the endless rows of low-laying vines stretching down the hillsides. The round, crown-shaped vines are purposefully kept short to protect them from the strong sea winds.
The minerals in the soil are the perfect ally to the crop's growth, and so is the night fog that rises from the sea and brings to the vines the much needed moisture in the dry, hot summer weather.
The most famous indigenous variety is Santorini Assyrtiko, an excellent dry white with Protected Denomination of Origin (PDO). Assyrtiko is mixed together with the aromatic Aidani and Athiri variety of grapes to produce the unique, naturally sweet wine called Vinsanto, known since the Byzantine times.
Wines aside, there are two more famous products, unique to Santorini: fava (yellow split peas) and baby tomatoes. Grown with dry farming methods and a lot of manual labour, the crops are predictably small but the flavour and the quality are unparalleled. Santorini fava PDO is as good as gold!
Fava bean is cooked into a mash or a puree, very similar to hummus in texture. It is a simple, everyday but very filling and comforting dish, which can be served as main or more often as a side. The simplicity of cooking the yellow split peas is an embodiment to the island itself and the simple way of living. You need nothing but a few ingredients: dried fava beans, onions and lots of extra virgin olive oil.