Greek style tzatziki, how to make it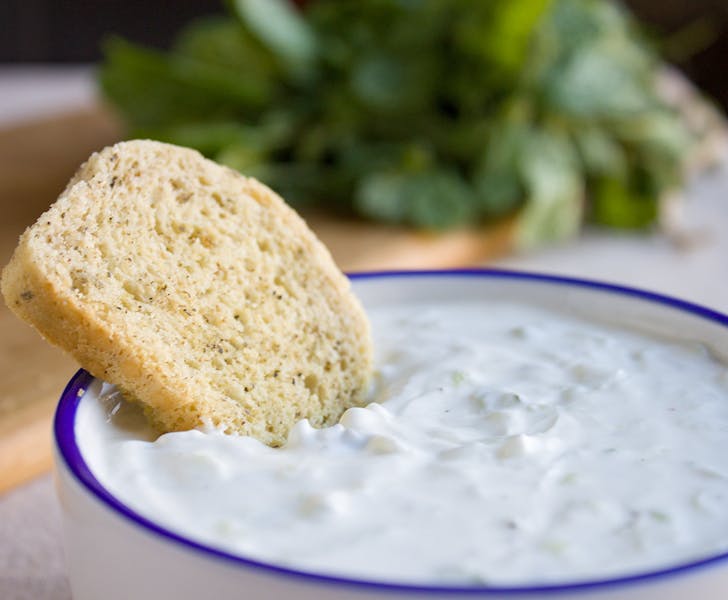 Tzatziki sauce in Greece is used and offered on various occasions. It is in fact an extremely simple and fast type of preparation.
The ingredients used are all always available in any Greek pantry. They are all ingredients available throughout the year and therefore not a seasonal dish.
For example, tzatziki is present in the tables set for Easter lunch as a side dish to the main courses based on lamb and kokoretsi. This exquisite cream marries in an exceptional way with the strong flavor of lamb, forming an unmistakable mix of flavors.
But it is also a summer dish thanks to its refreshing power. Yogurt, cucumbers and garlic come together to form a tasty and unique dish of the Greek culinary tradition.
The ingredients used are so common and widespread that its presence is now extended to the cooking tradition of the whole Middle East. Another particularly interesting combination is in fact the tzatziki with the typical kebab of the regions bordering Europe.
The raw materials of tzatziki therefore contain a worthy representation of the production of the whole Mediterranean basin. Yogurt, cucumbers, extra virgin olive oil and garlic ... all in a gluten-free mix!
There is hardly anyone that can resist its charm. But are there any tricks in making it at home?
For the perfect tzatziki sauce, you need a good regular yogurt. It is the type of yogurt that would add this creamy texture, so avoid the standard plain yogurt. Then comes the cucumber, that takes a little preparation. If there are seeds, remove them.
First of all, the cucumber is one of the main and most important components of this preparation. Being able to use on ripe and crunchy cucumbers makes the tzatziki sauce tastier and more fragrant. The secret to a traditional Greek sauce is the Greek cucumbers, inimitable in terms of quality.
Your cucumber will need to be grated or cubed before going into the tzatziki dip, but do not forget to treat it to some salt. This will remove any excess moisture and will allow for smooth texture.
Also, remember to remove any excess water that cucumbers are full of. After grating them, the advice is to squeeze them firmly and for a long time, perhaps using a colander.
In fact, the greater the water present inside the cucumbers, the less creamy the final sauce will be.
Super easy to make at home (and you will taste the huge difference with the store bought), here is what you will need for authentic homemade, easy tzatziki dip.