What are kourabiedes?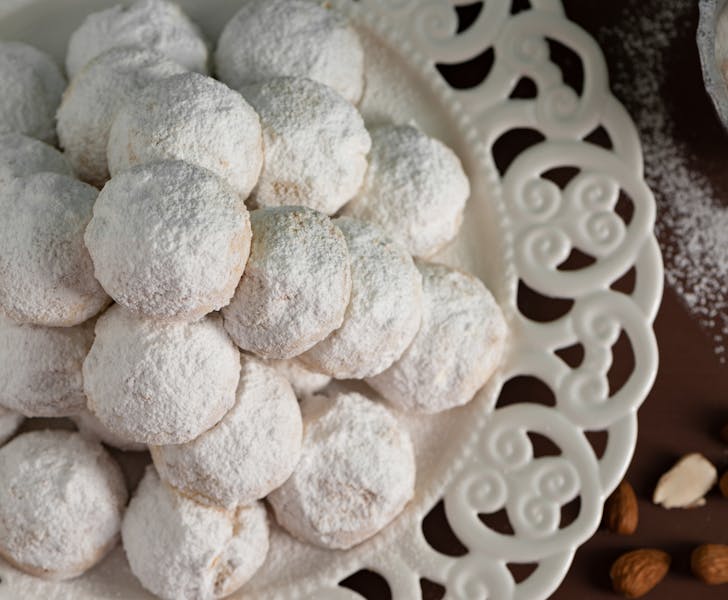 The kourabiedes (kourabies in the singular) are Greek light golden biscuits with almonds. They are covered with icing sugar and traditionally prepared for the Christmas holidays. Households usually prepare them one week before Christmas around December 19. According to Greek tradition, in many parts of the country, they are offered to guests immediately after baptism or marriage.
 Their name come from the Persian Qurabiye, which means biscuit, pastry made from flour, butter and powdered sugar. Back in 1924, refugees from Asia Minor from Karvali in Cappadocia, moved to Kavala Prefecture and named their new area Nea Karvali. It was thanks to them we found out about the traditional kourabiedes recipe of of Asia Minor. Thus, today in Greece the most famous traditional kourabiedes are those of Nea Karvali.
Kourabies is directly related to the Christmas period, although customs and traditions of the Greeks make it the main festive treat of celebrations all year round. Kourabiedes are offered in special occasions like weddings and baptisms as a symbol of luck. Their white color is said to bring pure celebration and the wish for bliss. Kourabiedes symbolize happiness as they are made from thousands of grains of flour and sugar, as much as our dreams and hopes are.
Around mid-November or even earlier all bakeries and pastry shops start to smell butter and toasted almonds, two of the four main ingredients in kourabie.
 The butter must be such (from cow's or goat's milk) that it releases its soft aroma, leaving a pleasant and balanced aftertaste. Kourabiedes must melt in your mouth. Almonds should be fresh, of excellent quality. Roasting the almonds on a baking tray, add flavours and crunch to the cookie.
The secret to the success of kourabiedes lies in the ingredients you use and especially in the butter mixture! Butter is the key of success and should be of exceptional quality. Let's see how you can make these delicious cookies yourself!