Naxos and the wonderful beef and eggplant bake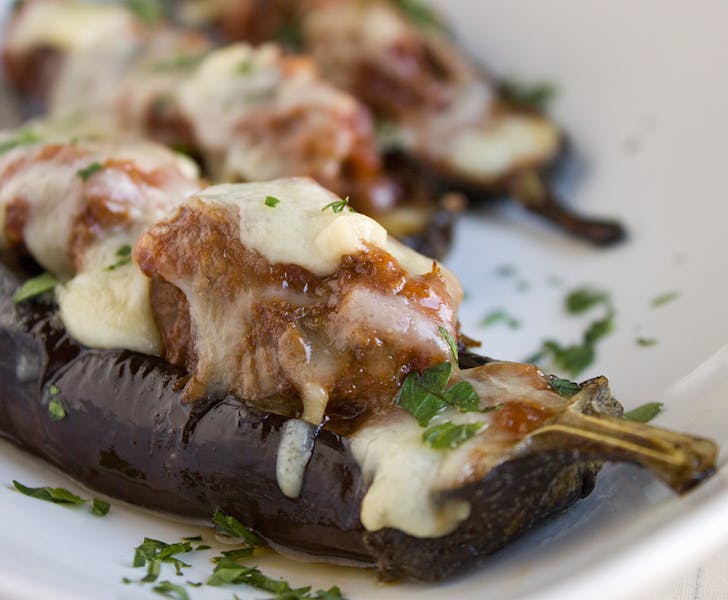 Naxos is undoubtedly the foodie's paradise in Greece. This island located in the center of the Cyclades Islands is naturally blessed with springs that provide fresh water for the abundant harvests in the fertile plains. Fresh vegetables and aromatic herbs are the best of local production and among these there is a small gem: the potato.
The Naxos potato has achieved PDO status and amazingly no other potato variety can match it in flavor and texture. In addition to this natural wealth, livestock farming also goes hand in hand with the agriculture that thrives on the island, making dairy production one of the most renowned in Greece.
Graviera Naxou, a sweet, buttery flavoured table cheese is amongst the most beloved Greek cheeses. Graviera Naxou has been awarded a Protected Denomination of Origin status as it is one of the few cheeses that is produced exclusively from cow's milk.
Whilst the graviera is the most famous of the island's cheeses, there is also arseniko, a salty, hard table cheese made from sheep's and goat's milk. Ladotiri, similar to arseniko but matured in olive oil; ksinomizithra or ksinotiri, a fresh, slightly sour white cheese, made from goat's milk and produced in the summer months, great for salads or with watermelon.
Mizithra another fresh cheese, much like a spread but light and creamy and finally touloumotiri, soft and creamy but spicy, it is one of the oldest cheese preparations originally matured in a touloumi – a specially prepared goat's skin.
The cuisine of Naxos is as rich as its products. If you are a fish and seafood lover, stay by the coast and look out for the traditional Greek fish soup kakavia, and salachtouri, ray fish salad with lemon dressing.
You can savour all the classic Greek dishes such as moussaka but I would urge you to visit the inland tavernas or those in hilltop villages for excellent lamb dishes and roasts. Kalogeros, 'monk's food' is one of the most authentic Greek dishes. A tomato sauce veal stew, finished in the oven with baked aubergines and the famous graviera Naxou.